Eighteen months of planning, pinning, and plotting… all for Leisha and Tim's big day, their wedding day!  I can remember when it seemed like an eternity away!  We had to plan early because all ceremony sites and reception halls here book so far in advance because there are not enough of them to go around.  I have to say, we enjoyed each step of the planning process. 
Finding out I had stage 3 C Ovarian cancer on March 3rd, kind of took me out of the "wedding game" for a couple of months. Leisha had to pick up the ball and run with it, while dealing with my sickness and she did it all with grace and style and handled it like a pro. Finally, the past month or so I was able to assist in mental ways and items that could be handled over the phone and I enjoyed assisting in any way that I could. Again though, we had thought about this wedding day for such a long time.
Last week seemed to go so quickly as we counted down the last 7 days until THE DAY. As Leisha and Tim's company started arriving last Wednesday, it made it all real, this is the week, the wedding is almost here!  Saturday, May 27th, 3:30 was here before we could blink and all of the preparations would soon turn into a distant memory.  As I was standing at the edge of the ceremony site, waiting for Luke to come back and escort me down the aisle, all I could see is the most beautiful ceremony set up I have ever seen. Schedel Gardens was in full bloom, absolutely gorgeous landscaping everywhere. The archway was adorned with beautiful flowers, then I looked up to the right and there was the stairway Leisha always dreamed of walking down, again, decorated beautifully just waiting for her grand entrance.  As I listened to the music playing Celine Dion, Because You Loved Me, big tears started streaming down my face before I even began my descent towards the audience. Once Luke got to me, he started trying to make me smile and laugh as he always does and the tears just kept flowing. Luke seated me and I enjoyed watching all of the bridal party come down the aisle and then the music stopped and there was Leisha with her Dad, the bride was on her way down!
The wedding was absolutely flawless, our cousin Aaron did a wonderful job with the service, as he always does and it just made it more special to see how many family and friends came to share in this most special day.  The reception followed and was just as perfect and everyone had a splendid time with close family and friends and memories were made which will not soon be forgotten, if ever.
Yesterday, I was walking through the garage when something caught my eye, it was Leisha's gorgeous bouquet, hanging on the wall.  My mom hung it there to dry, to hopefully preserve the flowers Leisha had always dreamed of carrying, as a priceless keepsake.  As I walked by I could not help but think of all of the hours, weeks, and months that we had spent meticulously planning each moment of this wedding day and like that, blink, it is over and we are hanging the flowers to dry. It is just amazing how quickly time passes and how big events become fond memories.  This is just a reminder of how we need to embrace and cherish each special moment because the planning stage quickly turns into the flowers drying on the wall and all you have left are the memories made or missed.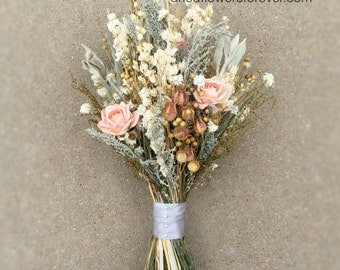 I had a boss in Knoxville, Tennessee, Bunny Oaks, I respect that man so much. Each morning he would walk in and I would ask him how he was and he would say, "Lynn, every day is a blessing! "  I will never forget that and in light of the past few months, it is more true to me all of the time.  EVERY DAY IS A BLESSING!!  Enjoy each day, moment, and second, knowing that soon, even those will become memories. Live life to the fullest, don't sweat the small stuff, and cherish time with loved ones, family and friends alike.