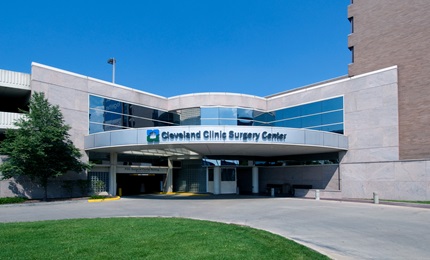 Tuesday, March 14th arrived with very snowy and bitter cold temperatures!  Our caravan left at 6:30 a.m. to be there for my 9:30 .check in. Mer drove her truck because it is so good in the snow, then we had Dad's SUV behind us driven by Crystal. We made it through the snow just fine and arrived at Cleveland Clinic ahead of time. Colton, Leish and I were the first to enter the surgical building and we found a very beautiful wishing fountain.  Of course we had to get coins out and throw them in the fountain, all three of us seemed to be wishing the same things that morning!  
We went upstairs and checked in, Leisha was given a beeper that would keep them posted the rest of the day on my progress and where I was in the surgical process.  Right as I was walking down to the pre-op holding room I ran right into Jayne, that was a huge relief. She walked me down to my room, helped me get settled then went to get the rest of my family. My whole support team that day had our purple "#INITTOWINIT" shirts on, we had so many positive comments that day on our unified team. Everyone that accompanied me that day were: Dad, Mom, Pam, Crystal, Leisha, Eric, Mer, Colton, Nate and Alyssa!  The best caring crew ever!
We were in a very small holding room from 9:30 until 3:15 because the surgery before mine went twice as long as it was supposed to. We did all kinds of things to entertain each other and distract our attention from the inevitable.  It was truly a long day for everyone!  Finally, they came down to get me to go up to the operating room floor.  My family came by me one by one and said good-bye, I only made it through the first farewell before I was in tears, all of a sudden, I did not feel so strong anymore. The gentleman who pushed my bed upstairs was so full of kindness and compassion, he talked to me and gave me encouraging and positive words all the way up to the operating room. 
Probably the most intimidating time of the whole experience was being wheeled into the O.R., my entire surgical team gathered over me and started explaining everything from anesthetic to the surgical procedure. As I looked up at the Anesthesiologist, my surgeon and 3 or 4 nurses, Dr. Mahdi came over and grabbed my hand, he said, "Lynn, I am not starting this surgery until you look at me in the eyes and tell me you trust me, you MUST trust me or I cannot begin this surgery!"  With tears in my eyes, I squeezed his hand and told him I trusted him, I meant it with every fiber of my fearful being!  At that moment, all I had was my verse I kept quoting over and over, I can do ALL things through Christ who strengthens me, and my trust in Dr. Mahdi.  The anesthetic started and that was my last memory until the recovery room!
When I woke up in the recovery room, Eric and Leisha were there, my throat hurt pretty badly because I had an NG tube. I wanted them to know I was ok and awake so I started winking at them, they were very relieved to see me being me. I did manage to get out a line from a Disney movie to get some chuckles.  I heard the nurses discussing my blood work with concern, my red blood cell count was low and was not coming up on it's own. This meant I had to be given a unit of blood which I had previously given consent for. So, for 1 1/2 hours I had to lay there and wait for the blood to S-L-O-W-L-Y drip. Needless to say, my already exhausted family was waiting for me in my room until 3:30 a.m. when I was finally wheeled up to G-71.
Crystal, Pam and Leisha were in my room, very weary, but very happy to know I was out of recovery and reunited with them in my room which by the way, resembled a 5 star hotel room!
One of my most memorable moments of the entire day was Dr. Mahdi insisting that I look him in the eye and tell him that I trusted him. I wonder how many times a day God has to get my attention and try to persuade me to stop worrying and stop trying to control things on my own and finally whisper to Him, " I trust you!"  The best part of this entire journey has been the opportunity to time and time again, look up and admit that I am NOT invincible, I am NOT in control and that I do fully trust in the ONLY One who was not surprised by my entire situation, God's got this, #Godsnotsurprised!